Holiday Break, See the Best of PagosaSprings.com

I want to thank the volunteer contributors to this website for their regular items sent for posting. Jeff Marzec sends articles and photos like the one on the cover of this article. On this one I did a little extra Photoshop and added Jeff to the photo. Hope you don't mind Jeff. Also I appreciate Woody Pope, Jim Sawicki, Ray Emery, Jim Mann and Noel Jacober.
Norm
PagosaSprings.com is taking a holiday break from daily posts. The following is a retrospective of some of the best articles and photography from the website. We wouldn't go off and leave you without something to read!
 Note, The Wolf Creek Ski Area information and current weather will be updated and any emergency news will be posted real time.
The West Fork Fire of 2013.
West Fork Complex, the new reality below.    Thanks Tom Mozer
Before the burn photos from website click here.
See amazing time lapse video of the fire from Pagosa Springs.
A Firefighter's View of the West Fork Fire.  See second video here.
See the Little Sand Fire entire article here.
You will always find interesting articles like these on The Journal.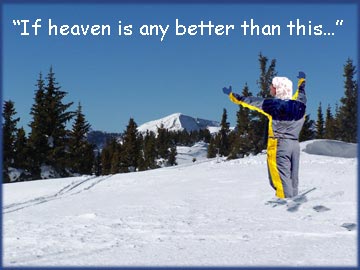 A Touching Moment on the Snow Trails of Wolf Creek Pass. Click here.
Bralee's Excellent Elk Hunt here.
Big Game Hunting 2010, read the amazing story of  Angette Pastuszek.  Click here.
Here are a few of our favorite photos.