Cool Mountain Air, Scenic Drives, Hiking, White Water Fun & More
Backroads Touring in Pagosa Springs

Pagosa Country offers a wide variety of scenic beauty, much of which may be enjoyed from a conventional vehicle. Most of the roads recommended for these tours are all-weather gravel roads. Some roads require four-wheel drive vehicles; many will test your driving skills and courage. Go prepared! A Forest Service map, available at the Forest Service Visitor Center, is a must. Excellent picnic areas are located along all routes. Many of the trips are in remote areas with little traffic—- plan accordingly.
See some of our favorite scenic drives click here.
Plumtaw Road. Photos by Jim Jacober.
Piedra Road.
 

White Water Trips
Hiking Pagosa Country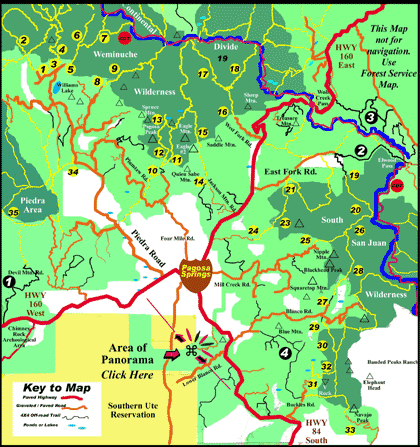 Photos of Treasure Falls and the West Fork by Jim Jacober
Scene from the scenic overlook. Here Wolf Creek, Falls Creek and the West Fork reach a confluence and the San Juan River begins.
From the West Fork looking across the valley Treasure Falls is seen against the forest.
Closer!
  The falls is really pouring with snowmelt off.
The West Fork is raging with near freezing water.
 We have a late spring, but when it turns it is beautiful and the greens are a welcome sight.