The Solar Eclipse from Home or a State Park Event
The best view of the sky in this area is the summit of Wolf Creek Pass or, even better , drive up Lobo Overlook from the summit. At Lobo you are seeing through almost a mile less atmosphere than in Pagosa Springs. If there are clouds you may be above them! For the Lobo drive have 4 wheel drive.
The box viewer shown here uses a cereal box but any reasonable sized box will work. A larger box allows two or more people to see the image a one time.
Looking directly at the sun is extremely dangerous, damage to the retina occurs in a few seconds and is not reversible. During a solar eclipse (moon blocking the sun) it is very tempting to look directly at this event, doing so usually results in eye damage.
The event can be safely viewed by looking at a projected image of the sun.
A small hole in a piece of foil acts much like a lense, creating an image.  A device that uses a small hole to create an image is called a pin-hole viewer.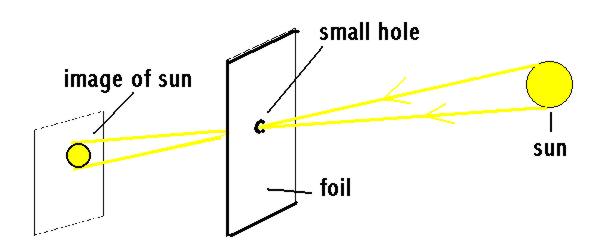 Colorado Parks and Wildlife celebrates August's solar eclipse
DENVER – Colorado State Parks and our partners at the Colorado State Library are ready for the growing excitement over the upcoming total solar eclipse on Monday, August 21. Anticipation continues to build for this year's eclipse, during which everyone in North America will have at least a partial eclipse view. Viewers in Colorado can expect to see stages of the eclipse from 10:30 a.m. to 12:30 p.m., with the peak at around 11:35 a.m.
While Colorado does not fall in the path of totality, residents interested in the phenomenon do not need to battle traffic and crowds in neighboring states to get an amazing perspective of the eclipse. Colorado will see anywhere from 80 percent to 98 percent obscuring of the sun, with the highest percentages found in the northeast corner of the state. NASA recommends finding a nice, clear spot with a good view of the sky to best experience the eclipse, making Colorado state parks the perfect viewing locations.
Several state parks are celebrating with special eclipse programs, with some parks offering events such as guided hikes to prime viewing locations, discussions on different types of eclipse and learning how to make pinhole projectors. Just a few of the state parks with special events include:
Each park is offering different experiences, and some parks do require an RSVP for these special events, so be sure to check Colorado Parks and Wildlife's Solar Eclipse page before heading to the parks. Though all parks will have a limited supply of eclipse glasses, it is highly recommended visitors bring their own ISO 12312-2 compliant and CE certified glasses, or download and make a pinhole projector for safe viewing. Remember, regular sunglasses are not appropriate for viewing the eclipse!
For those unable to attend a park program, many public libraries in Colorado are offering learning programs before and during the eclipse, and many will also have free eclipse viewing glasses available to community members.
To prepare for your solar eclipse adventure, view NASA's Total Solar Eclipse map and choose a park location at cpw.state.co.us or locate your nearest library at https://find.coloradolibraries.org/.