Boondocks Safety via Technology
The handheld GPS has become a lifeline for many outdoorsman. Whereas before, sportsmen and hunters had to depend on maps and compasses, the GPS can give them exact coordinates for locations. Many of the manufacturers include links to GPS maps that can be downloaded for free so that the user can find a campsite, fishing location, game trail, or hunting spot. They are also useful on the water when navigating to shore or specific fishing holes. Such devices are life savers in storms and other dangerous situations. Owners of a handheld GPS can record, or bookmark, their favorite places.
In general, there are several characteristics to look for with a handheld GPS. You will want something lightweight and compact so that you can carry it in your pocket or attached to a D-ring. Some of the devices also include a distress beacon. It should be waterproof and durable so that it will resist the shock of being dropped or otherwise abused by use and the elements. The screen should be easy to read regardless of weather conditions, so check it in full sunlight, overcast conditions, nighttime conditions, and when you are wearing your sunglasses. Since your GPS will take you a long way from civilization, it should have an exceptional battery life and an easily changed battery. Look for WAAS units that offer the best accuracy within 10 feet of your destination. A USB port will allow you to hook up to your computer and download maps, and an SD card will extend the memory. Here are some reviews of the top 10 handheld GPS units available.
1. eTrex by Garmin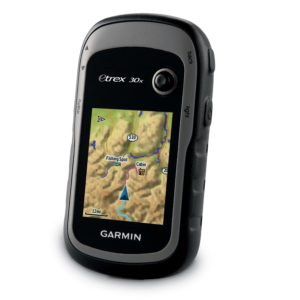 Garmin makes the eTrex 30x handheld GPS device. It offers a 65K color display that is readable in sunlight, the 2.2" screen has a 240×320 pixel display. The eTrex offers 3.7 GB in internal memory, and has a microSD slot for loading various maps, some of which need a subscription. It comes preloaded with a shaded-relief basemap.
The eTrex has a barometric altimeter that records your altitude for added accuracy, and has a memory that will record barometric pressure and plot changes over a period of time. This is a wireless device that allows you to share your information such as routes, geocaches, waypoints, and more with devices that are compatible.
This device is WAAS enabled and uses the HotFix satellite tracker. It also will support geocaching activities, including information on terrain and difficulty, hints, and other key information. This unit is accurate and identifies your location quickly even if you are under heavy cover or in a deep canyon. In addition, the eTrex has commercial qualities in that it can simultaneously track GPS and GLONASS satellites. GLONASS was developed by the Russian Federation and which load at about 20% quicker than GPS. It has an average battery life of 25 hours and supports Bluetooth.
2. Montana 680 Touchscreen GPS by Garmin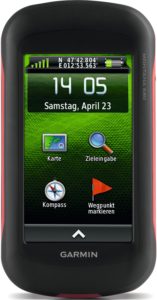 The Montana 680 Touchscreen GPS comes preloaded with 250,000 geocaches from around the world. It also has a one year subscription to Birdseye Satellite Imagery, which helps you see your immediate surroundings, wherever you are. The Montana 680 is GLONASS and WAAS capable. It also has Hotfix prediction and is capable of maintaining your location regardless of cover and in canyons. The track manager enables you to record routes and waypoints and to organize your navigation. This unit also comes with a digital, 8 megapixel camera that provides geotagging.
The Montana 680 has a glove-friendly color touchscreen that is a generous 4", with dual orientation. It has a 3-axis, tilt-compensated compass and a barometric altimeter. It supports automatic geocaching of GPX files, including difficulty ratings, terrain, and hints. You can also receive navigation pointers for geocaching events. Topographic data can be displayed in either 2-D or 3-D, and includes elevations and contour lines. It is water rated, and durable against dirt, being dropped, and humidity. You can also share your data with other, compatible devices.
3. Rino 750 by Garmin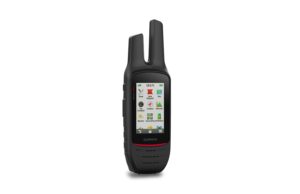 The Garmin Rino 750 has a 3" inch screen that is easy to read in the sunlight. This is a touchscreen with both landscape and portrait views. It also has 3-axis tilt compensation, and electronic compass, an accelerometer, and a barometric altimeter. This device also provides current weather forecasts and provides an animated radar readout. It is Bluetooth capable and set up for smart notifications from Garmin.
The Rino 750 also has a built-in, 5 Watt, 2-way radio. The radio as excellent range. It offers dual GLONASS and GPS reception which provides more reliable tracking in inclement weather and difficult terrain. The Active Weather Support with radar and Position Report are also excellent safety features, along with available emergency alerts. It offers intuitive programming for waypoints and navigation. This device can be synced with compatible devices so that groups can find each other when separated.
4. Oregon 650t GPS by Garmin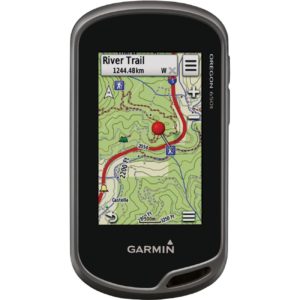 The Oregon 650t GPS, manufactured by Garmin, has a 3" multi-touch touchscreen. The screen is one of the best Garmin has made and is easy to read in direct sun and when you have sunglasses on as well. The device is impact resistant, yet responds to a gloved touch. In addition, the Oregon 650t is rugged, resisting dirt, contact, and humidity. It offers both GLONASS and GPS positioning, as well as a three-axis compass and a barometric altimeter. With GLONASS capabilities, you have access to more satellites. GLONASS is also faster than GPS .The Oregon 650t also has an accelerometer. It is Bluetooth capable so that you can share your custom maps, waypoints, photos, and more with team members. It offers dual orientation for all photos, as well. The worldwide map has shaded relief, and with the multi-touch feature, you can zoom in or back out with the touch of your fingers. You can even wear certain kinds of gloves when using the touchscreen.
This device can operate with either AA batteries or with an NiMH battery pack. The batteries last about 16 hours. The 8MP camera offers autofocus and automatic landscape or portrait. The camera has a zoom feature as well as an LED flash and waypoint marking. Geotagging of photos allows you to find your way back to any specific spot. With Garmin Adventures, you can share your photos with friends. The Oregon 650t has a microSD card and a USB port. This is a lightweight item at 7.4 ounces, and measures 1.3"x4.5"x2.4", with a 3" diagonal screen.
The Oregon 650t arrives with the entire U.S. mapped, including Puerto Rico, in shaded relief. This map includes all of the parks at each level (local, state, and national) as well as contours and elevation info. It will alert you to points of interest and to topographical elements such as lakes and rivers. This unit will hold unlimited geocaches. With the BaseCamp software, you can plan your excursion and share it with friends. The BaseCamp display is in 2-D or 3-D and includes elevations and contour lines.
See more outdoor navigation solutions and photo credit here.
Taking your cell phone into the backcountry
By Mark Rackay
These days, most of are dependent to some extent, on our cell phones. While service can be non-existent or, at best, sketchy in remote areas, emergency rescue experts suggest that hunters carry their phones with them in the field.
Cell phones have become the most important tool for finding people who are lost or injured. Here are some tips on the use of cell phones in the backcountry.
Start your trip with the phone fully charged. You can always top off the charge in your vehicle on the way to your starting point. Also, turn on the phone's automatic location setting. This allows emergency services to get a "ping" and calculate your position using GPS. Then, keep the phone turned off. When phones are on they are constantly searching for a signal which drains the battery. Try to store the phone close to your body – keeping it warm also helps conserve battery power.
Turn your phone on at least once each day for about five minutes. When powered up the phone will search for, and hopefully find, the nearest tower. Even though there might not be enough signal to make a call, it can be enough to leave an electronic trail that can be used later in an emergency.
Cell phones, like radios, work off of a line of sight. This means that land features such as mountains, heavy tree cover and rock formations can block signals. If you are going to make an emergency call, find the highest and most open location search for a signal. Hold the phone in the air at arm's length and rotate around until you find reception.
I was on an elk hunting trip some years ago where the only service I would find was in a spot about 50 feet from camp, next to a fence line. I would power up the phone and check in twice daily from that location.
If you do not have enough reception to make a call, or if reception is spotty, it's possible you can send a text message. Send it to someone you know, give the location and the problem you're having. Your friend can then call 911 with the information to request help. If the text doesn't send, just keep moving. As soon as the phone locates a tower, the message will be sent.
Given that cell phone service is becoming available in more and more remote places, it's a good idea to carry your cell phone with you in the backcountry.
Mark Rackay is director for the Montrose County Sheriff's Posse. He can be contacted at [email protected].